As you may have noticed while booking a flight, most of the flight tickets are sold by Skyscanner, Kayak, Momondo, or Wego, or such travel metasearch engines. However, these are just a platform as they do not directly sell flight fares or any travel products. Instead, other OTAs use these channels as a platform to promote their brand and sell their products. Furthermore, these meta search engines collaborate with thousands of leading online travel agencies and aggregate flight fares through API, and then publish it online on their page. From there, customers can easily get the most updated search results.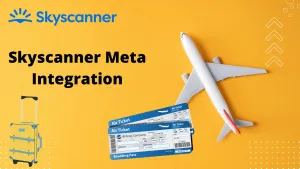 How Skyscanner Is The Best Choice For Otas
Currently Skyscanner is the leading channel to book flights. Each month, the platform is used by 100 millions of visitors from across the globe, making it the top choice for travelers while booking flights. The reason behind its popularity is immense. Here are some points to be noted:
It Collaborates With Global And Local Online Travel Agents
Do you know how Skyscanner offers the lowest flight fare, even cheaper than the airline itself? It aggregates prices from its partnered travel agents and publishes all the fares on its portal. Users have the luxury to filter their search, so that they can avail the required results. This way OTAs not only can sell their tickets through a medium, but also can promote their brands.
It Promotes The Otas And Give Them A Huge Market
Since Skyscanner has one the world's largest customer base, it can easily provide its partnered OTAs with an exposure to a huge market, which is not possible other way. This is the reason most travel agents prefer to get listed in these kinds of metasearch engines.
It Gains Otas A Huge Traffic To Their Sites
Today's travelers rely on Skyscanner or other such meta search engines to book their flight. The reason is simple. It gives users the access to its resources through which they can easily get the required results and reserve the service. But that is not possible if you visit an online travel portal. It has limited information, which is not what millennials want. While OTA integrates with Skyscanner, it starts competing directly with its rivals.
How Travel Portal Solution Helps Otas Collaborate with Skyscanner
Getting a platform that can promote your brand is a crucial aspect to have sustainable growth in a highly competitive market. An OTA needs access to a larger clientele base through a digitalized channel backed by highly advanced technology. Since partnering with Skyscanner helps start-ups grow their business quickly and efficiently, businesses can create first-class travel search experiences for their users.
As a leading travel service provider, Travel Portal Solution partners with their clients to provide strong distribution capabilities, and automate their travel business process. In addition, it integrates OTAs with Skyscanner meta search engine that gives them an exposure to a broader market. It can easily provide benefits to its clients from Skyscanner's global content, while also monetizing the traffic generated..
BOTTOM LINE
When you decide to integrate your data with Skyscanner through Travel Portal Solution, you directly unlock a myriad of opportunities. It is a convenient and reliable platform that can enable its OTAs to stay ahead and relevant in the market. From faster escalation to increase product sales, and generating higher revenue, you can be the next Big Thing in the Travel Industry.
Meta: Invest in Skyscanner meta integration to speed-up your annual revenue. Connect with multiple OTAs