Travel industry has always been on the top of the chain except from the Covid-era. But prior to winning the fight with this disease, traveling is slowly becoming an important part of human's life again. Whether domestically or internationally, people are continuously booking flights and traveling as if there is no tomorrow. Hence, to fulfill such soaring demands, OTAs require to keep up with the trends and at the same time beat their competition. But the real question is- how to do it?
Travel agencies, whether a newbie, a startup, or an established business, can boost their sales and promote business by listing their airfare deals over a renowned metasearch engine. One such platform is Wego. Now let us find out how this search engine can assist your business.
What is Wego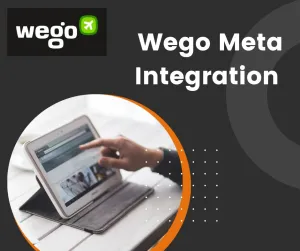 Before learning about how Wego can help your business, it is important to learn what it actually is.
Wego, formerly known as Bezurk,is a Singaporean travel metasearch engine based in Singapore. It operates 76 country sites in over 22 languages and local currencies.
An online travel agency partners up with Wego after paying the entitled partnership fee. After that, the metasearch engine displays airfare packages results in real time from over 700 travel sites, so users can compare and buy the best flight deals.
Furthermore, Wego utilizes the GDS Integration system, and is able to reflect the optimum flight deals over its platform.
Advantages of Choosing Wego
When it comes to searching for an optimal platform to promote flight packages over an already-established meta search engine, Wego may or may not be the one that comes to your mind, considering the variety of meta search engines available.
However, there is a reason why this particular platform is one of the most preferred by OTAs and even travel portal development service providers. Here are some advantages of choosing Wego for upgrading your business development.
Wego can help your business grow in the long run and also provide a competitive advantage in this consistently soaring industry.
With the help of this metasearch engine, OTAs can easily promote their brand image and their services before the most suitable customers.
For all the startup and newbie OTAs Wego serves as a perfect platform, where they can easily list their flight deals, while saving their time and cost of doing it by oneself.
But not all travel agencies are able to directly partner up with a metasearch engine. Since, the method can be a little too complicated for startup OTAS or so, there comes a travel portal service provider into this picture. Let us now understand how they can guide you better about the Wego Meta Integration.
Role of Travel Portal Solution
Travel Portal Solution (TPS) is a renowned travel service provider based in India. And being in business for many considerable years, we always bestow highly advanced software solution systems to all our clients.
It might come as a surprise, but OTAs usually have to pay higher costs when partnering with Jetcost or any metasearch engine for that matter. But if you're choosing to work with Travel Portal Solution, then rest assured, you will be able to save those unnecessary expenses.
TPS serves as a medium gateway and connects OTAs and the metasearch engine (Wego). Further, as a professional travel portal development agency, we assist all such travel agencies who are either new in the industry or wish to save that additional cost by not partnering directly with Wego.