Hotel Extranet, Sell Your Own Contracted Room Inventory Online
The Hotel Extranet module is smart and easy to use, which comes with two categories. You will be facilitated with the extra functionality of adding Hotels with multiple suppliers. It gives you exposure to the largest inventory of hotels worldwide. We are experts in the development of hotel extranet. If you need any kind of suggestion or consultancy about the hotel extranet you can contact us here. If you don't know what extranet is, first check what it is and how it works.
More About Hotel Extranet System
Before investing in any business, we all go through a deep study to understand the market and identify the latest trends and demands. The most common service millennial travellers prefer to buy together with flight tickets is hotel rooms. So, you cannot rely only on the flight booking option, if you wish to get more customers. Therefore online hotel booking engines or hotel booking software are necessary.
A hotel booking portal can be developed in many ways. First is through hotel API integration, one or multiple hotel API integrations. Multiple hotel API integrated systems provide a wide variety of inventory. The second is through building a hotel extranet, which we'll understand in detail in the following sections. The third is by conflating above two to provide a competing edge over others. While other methods such as hotel booking affiliate system and meta-search API integration are in demand.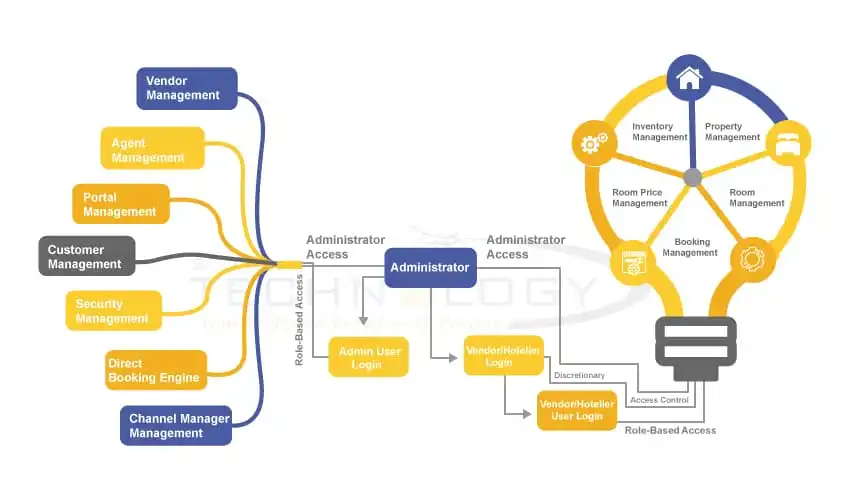 Hotel Extranet System
It is a portal that allows access to hoteliers, vendors, and partners to streamline their tasks such as managing their inventory, room rate management, meal plan, images, hotel details, and so on. It provides them access through a unique login and password, where they can check reports and bookings through this online channel. Agents and customers also register here to get the best b2b hotel rates from suppliers.
Our hotel extranet module is smart and easy to use. You will be facilitated with the extra functionality of adding Hotels with multiple suppliers. It gives you exposure to a robust system where you can manage the largest inventory of hotels worldwide. B2b hotel booking portal, b2c hotel booking portal, or both hotel booking portal and mobile application development are provided by Travel Portal Solution.
Features Of Hotel Extranet
End to end connection for real-time data and availability of inventory.
Hold room time limit management
Room price plan id
Controlled access to agent dashboard, customer dashboard, and vendor dashboard.
Auto email and SMS notification
Payment policy management
MIS reporting and statistics
Role management under supplier module
Price plan and promotion mapping
Loyalty points management
Rooms left badge
Hotel distance from sightseeing, airport, railways etc.
Handle hotel blackout
Handle rooms on the basis of occupancy, extra bed, permit pets or not
Manage seasons
Dynamic markup management settings
Customizable functionality as per requirements
Benefits Of Hotel Extranet
Hotel inventory management systems are very important for any business and it helps you manage your resources or products and lets you keep track of each booking conveniently. The main importance of a hotel extranet system are as follows:
Reduces Mistakes
It is cheaper than the tools stored locally on your computer. A cloud computing provider can operate at a fraction of the cost and can offer many more dynamic features to have growth.
Save Your Time
It saves your time so that you can concentrate on other important functions or operations of your business. You don't need to plough through spreadsheets to get a view of your current inventory. Instead of that, you can check it in cloud-based tools to get real-time tracking of reports- so you will easily see what you are selling and what is going on in your inventory.
Connect Directly To All Sales Channels
If you are a hotelier or any other travel content distributor, you might need multiple channels to increase your sales. It helps you connect with all the sales channels you need to amplify your bookings and sales.
Types Of Hotel Extranet
The two categories of Hotel Extranet are:-
With Inventory Management
Without Inventory Management
Mentioned below are the functionalities of each category:
With Inventory Management
This is the advanced module, where we are providing you with the facility of adding the Hotels with multiple suppliers along with the payment mode on. You will be getting multiple functionalities in this module. For e.g. you will be getting supplier and agent login as well. With this, you and your supplier can easily change the hotel price for the next 2 years in advance from the respective ends. You can also add room and hotel categories from your backend.
Without Inventory Management
This is the module where you may add the Hotels but it will remain in the enquiry module. You may showcase those hotels separately and take a query from your website.
FAQS
What Information does the hotel extranet system store?

It stores information about the hotel such as availability, hotels rooms, price, images, policies  and other relevant data that can be helpful at the time of hotel booking.

What is a hotel extranets system or hotel extranet booking engine ?

Hotel extranet is an essential component of hotel central reservation system and is used by the travel agencies worldwide to upload the real-time inventory of their partner hotels and also give their hotel partners the access to their system, so that the hoteliers can put the information about the availability, hotels rooms, price and other relevant data, the clients may ask for.

What is the hotel property management System?

Property management system is an internal admin system, which the staff members and POS executive can operate to update, check in, check out, housekeeping, room availability, guest details etc.

What are some popular hotel extranets?

Booking.com extranet, Cleartrip extranet, Agoda extranet, and Goibibo extranet are some popular hotel extranets.

What is hotel central reservation system?

In central reservation system hotel staff can update the inventory, check in, check out, room availability, guest details etc. and also distribute to IBE, OTA and GDS.