The global travel and tourism industry is expected to cross the market value of USD 16.9 trillion by 2030. It is a huge sum. But do you think, it would be possible to cross this mark if the industry hadn't decided to shrug off its traditional attire and embraced travel technology?
Now anyone can research and find the best deals and resources through this technology solution. While sitting at home, now travelers can look at the best prices, best destination along with virtual views of the location and sort their queries with an automated AI assistant all the time (Chat Bot). Simultaneously, customers can also avoid the cluster of people at the airport just by booking, paying and doing online web check in with their phones itself. Having said this, the tourism industry automatically enjoys many advantages because of the Travel Technology optimization.
For example, a customer can easily search for the best location in Tokyo along with budget-friendly restaurants in the neighborhood. Also, the best tourist attractions can be part of their experience.
Possibilities are endless when one uses the tools accurately. Improvements like these in travel technology have increased the flow of customers because of seamless procedures. This affects the experiences of the customers before, during and after their traveling journey. Afterall, the major motive of such technology is to make the traveling experience more enjoyable and stress free. .
However, all these facilities that are ubiquitous today were unthinkable years ago. From booking flights to finding the best hotels, technology in the tourism and hospitality sectors has changed the way we used to plan our trips.
In this blog, we will cover how technology has changed the visage of the global travel and tourism industry.
Mobile Technology
No one can deny how the invention of smartphones has changed the course of our life. One can easily feel its influence everywhere and in every sector. If we talk about the travel and hospitality sector, our smartphone has become our tour guide, a travel agency, restaurant navigator, GPS, and more. As per TripAdvisor, 45% travelers use their smartphone for everything they need for a vacation. From ticket booking, web check-in, paperless boarding, to live updates on your flights, and beyond, you can do everything with just a few clicks. But not just flights, you can find the best accommodations or even purchase a complete vacation package all with your mobile.
Augmented Reality & Virtual Reality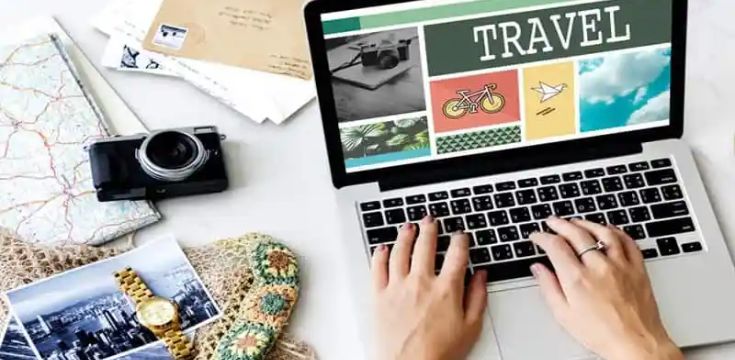 Augmented Reality or Virtual Reality are the latest trends that can transport you to anywhere you want virtually. With AR and VR, it is possible to teleport ourselves to the pristine beaches of Hawaii without getting off the couch. Due to its rising popularity, the tourism and hospitality sectors are investing in AR and VR technology to provide a more immersive experience to their customers. It is estimated that the AR and VR market is projected to grow by $304.4 million by the end of 2023. Moreover, when a hotel or resort implements AR in their website or mobile application, it allows customers to experience the accommodation even before reaching the hotel. It helps them anticipate what kind of experience they will get once they check-in.
Internet of Things (IoT)
Imagine you have somehow lost your luggage at the airport, but you can use your cell phone to navigate the suitcase. These smart suitcases are equipped with IoT-sensor devices that help you avoid any mishap, such as losing your luggage. IoT devices play a significant role in tourism in smart cities. These cities are equipped with sensors that gather data from travelers, track their engagement with tourist sites, and transmit the information to a centralized hub. By leveraging these insights, data scientists can generate reports and aid the city's travel sectors in enhancing the overall travel experience for visitors.
Robotics
Although it hasn't been a big part of our daily lives, many believe it to be our future. Robotics contribute to operational efficiency, cost-savings, and reducing 'human-error', while maximizing customer satisfaction and guest experience. Hoteliers and restaurants can use robotics for room service, cleaning service, delivery service, translation service, and beyond. It is Covid-19 that has fueled the rise of robitis. Today, hotels and airports are slowly deploying robot assistants that are not only contactless but also guide you with all kinds of queries.
Big Data
In the year 2021, executives from various sectors in the travel industry emphasized the importance of incorporating analytics tools into their companies. This decision ultimately resulted in positive outcomes for their growth. As mobile and web traffic continues to increase, along with advancements in Big Data, these technologies are expected to become even more prevalent by 2023. It helps tour service providers or anyone associated with the field to gather data on customer's requirements, demands, and experience. They can analyze these data to enhance the experience for future travels.
Bottom Line
The optimal use of technology has broadened the horizon of possibilities for the travelers. For example, when a customer goes to a travel agent and presents their requirements, the travel agent uses this opportunity to extract as much profit as possible. But travel technology helps the customers to research and decide what's best for them and they do not have to meet a travel agent personally. This biggest advantage for any customer could be the transparency throughout the process. Furthermore, the combination of Big data and AI optimization helps the industry to work more efficiently and accurately. Components like these make travel technology more reliable and easy for common beings.