Online Umrah Software is the most advanced software that helps Muslim Pilgrims to book an entire travel service for pilgrimage. This comprehensive software manages all travel services of Hajj and Umrah.
These two yearly pilgrimages are taken by two millions of pilgrims from 183 countries. Saudi Arabia is planning to allow even a greater number of visitors. Travel Portal Solutions helps travel agents and tour operators to cater to these large numbers of travelers by providing end-to-end Hajj and Umrah booking solutions. It covers everything from reservations to CRM, e-visa, itineraries, and accounting.
Who Can Apply For Haj & Umrah License
There are two types of Hajj and Umrah travel software providers- Umrah Operator and External Agent.
Umrah Operators
Travel agencies, travel management companies, tour operators, and DMC operators based in Saudi Arabia can apply for the license from Hajj & Umrah Ministry of the country. Every tour operator assigned an IBAN number, used to validate their bookings.
External Agent
Travel agencies, tour operators, travel management companies, wholesaler, DMC operators based outside Saudi Arabia can apply for Hajj and Umrah. But instead of the ministry, they should register with Umrah Operators to book travels.
What Are the Prerequisites to Obtain Hajj & Umrah License?
Both Umrah Operators and External Agents need to comply with the rules of Hajj & Umrah Ministry of Saudi Arabia.
For Umrah Operators:
Every registered Umrah Operator within Saudi Arabia must have a bank account with the ministry-approved bank. The bank will provide you with an IBAN number for all bookings.
The account will be used for all payment through net banking or other payment gateways
Each agent will then be provided with a Google authenticator access- it is a real-time passcode that enables the agent to authenticate a booking with an OTP.
For External Agents
Like Umrah Operators, External agents too have to open a bank account with a ministry-approved bank within Saudi Arabia or their local region. It will then provide you with an IBAN number for all bookings.
The bank account of the External Agents is tagged to their respective Umrah Operator under which they are registered. However, External Agents have complete control over their bank account.
Every agent is provided with a Google Authentication access, which enables them to authenticate a booking with an OTP.
How Can Hajj & Umrah Bookings Are Made?
It is a completely online booking process, and is done by registered UO & EA. A licensed Umrah Operator and External Agent make all the bookings on approved OTA or B2B booking platforms. To make the booking online, they need to register on the Umrah booking software with their IBAN and all requisite details.
Search, select, and book the service the customer wishes to book. At the time of booking confirmation, Umrah Operator and External Agent receive a passcode from Google to authenticate the booking. Once the booking is authenticated, the system will generate a Booking Reference Number or BRN.
How to Start Booking Service for Hajj & Umrah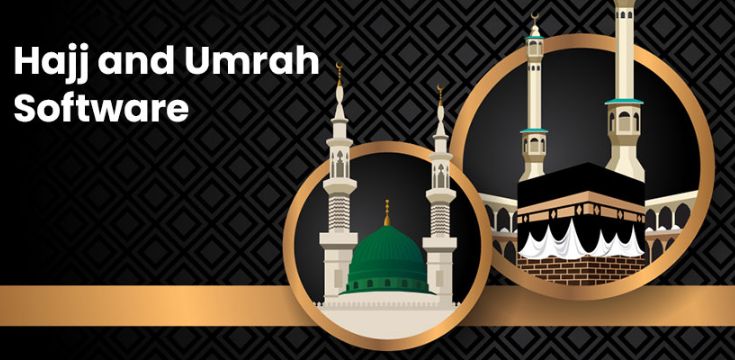 If you are planning to become a travel agent for Hajj & Umrah, connect with Travel Portal Solution. It will assist you with the entire process and build you an approved Hajj and Umrah software. To know how your software can collect booking details and other information, read below:
Maqam GDS is the sole GDS of all services required for Umrah bookings. Registered travel agencies need to get approval to integrate Maqam GDS.
All travel agents and tour operators for Hajj & Umrah, must register their system on the Maqam website.
However, getting access to Maqam GDS is not easy. The Ministry of Hajj & Umrah will first evaluate your agency before approving you access to the GDS.
Once you are approved by the ministry, you will need a Travel ERP platform that provides complete Umrah booking software, where you can easily integrate Maqam GDS.
What Are the Other Types of Integrations Needed For Hajj & Umrah Booking Software?
From transportation to accommodation and every little detail, an online Umrah booking tool must be equipped with all necessary integrations. And Maqam GDS can provide you with all integration required for the Hajj & Umrah booking process.
Transportation Suppliers
Pilgrims coming from other parts of the world land in Jeddah and from there they need to reach Umrah, Mecca, and Madina. The Umrah Operator or External Agent provides the transportation service to pilgrims.
For Hajj & Umrah transportation, any Hajj & online Umrah software should integrate Naqaba. It is an approved transportation supplier for all Hajj & Umrah systems. It is available in both GDS and CRS.
It connects with more than 90 Naqaba-registered transportation companies, which are available for bookings through the integration. It fulfills all transportation requirements of B2B and B2C providers.
Hotel Suppliers
CRS, Agoda, and Umrah Holidays are approved by the ministry as authorized housing distributors.
An Umrah booking software must integrate these suppliers, so that they can provide real-time data to customers directly from the suppliers.
These suppliers provide real-time data of more than 850+ housing providers. It is monitored and authorized by the government.
Ground Service Suppliers
Each group of pilgrims are provided instant support by the ground service suppliers. They are responsible for welcoming guests to hotels, guiding them, assisting them with instant solutions for complaints, etc.
Any Hajj and Online Umrah software should be able to integrate with the feed of these ministry-approved ground service suppliers, and provide all available options to complete the booking. The ground service integration is necessary for all B2C operators of Hajj & Umrah.
Integration of Payment Gateway
Umrah Operators and External Agents must electronically transfer all payments for bookings to the Ministry of Hajj & Umrah. Once the payment is confirmed, the Ministry will issue a BRN for the booking.
The payment gateway should be able to accept both domestic and international payments, like MasterCard, Visa, PayPal, etc. It must allow customers to easily make online payment through net banking or credit card.
Travel Portal Solution builds a robust Umrah software for travel agents. With its expertise in Hajj & Umrah software, it has been helping a large number of travel agencies to provide the best and reliable solution to millions of pilgrims.
Schedule a demo with us today and discover how our Hajj & Umrah software can transform your operations and elevate your services to new heights.